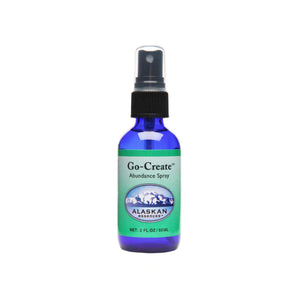 Alaskan Essences
Go-Create Abundance Spray
Regular price
$29.95
$0.00
Go-Create is an abundance spray that supports alignment with your true desires.
Feel the support of the Universe, feel worthy, let go of limiting beliefs and allow more joy in your life. Spray whenever you want to ignite inspiration and feel empowered in your capacity to create. Use it in your home, office, studio or during meditations, classes and workshops.
Use the Go-Create spray to:
Heal ancestral patterns that are blocking your ability to receive
Open your awareness to the unlimited generosity of the Universe
Focus your intention and attention on what you want to manifest, rather than on what you perceive to be missing
Trust in your capacity to create
Tap into your inner truth, joy, and wisdom
Feel more empowered around the whole co-creative process
 More information about the essences in this formula:
Blueberry Pollen - Often indicated for lack of belief in our ability to manifest abundance; low prosperity consciousness; difficulty receiving from others and from the Earth. It helps us expand on all levels to accommodate abundance; facilitates the release of mental and emotional attachments that limit our ability to manifest higher purpose in physical form.
Gold – Helpful for low self-esteem; little or no confidence in one's ability to create; difficulty manifesting wants and needs into physical reality; comparing one's accomplishments to others. It helps us access and express the highest aspects of our personal identity; brings strength and balance to the 3rd chakra; helps us tap into our inner truth, joy and wisdom as sources for our creative power.
Rock Spring – This is an essence of hope and miracles! It embodies the constant proof that nothing is impossible. It is an essence that can help us find our way through seemingly insurmountable obstacles with infinite patience and never ending trust.
Star Sapphire - Promotes trust in the universe; helps us focus our awareness on what is necessary for the soul's progression in life; supports the formation of energetic connections with others that promote the realization of our life goals.
 2oz spray bottle. Spray a few times around yourself and your work or creative space allowing the energetic and aromatherapy properties to activate your environment. Inhale, relax and open to receive the benefits and ground your energy
---
More from this collection